---


---


---


---


---


---


---


---
Welcome to North Bay Computer Repair in Santa Rosa, CA!
Unlike The Geeks, We Don't Take Weeks!™
Our professional, friendly computer repair technicians are here to help you today.
We will repair your computer quickly and for much less than big box computer repair stores!
Computer failure can be a nightmare, whether you need your computer repaired, broken laptop
screen repaired, computer viruses removed or on-site computer support for your home or business;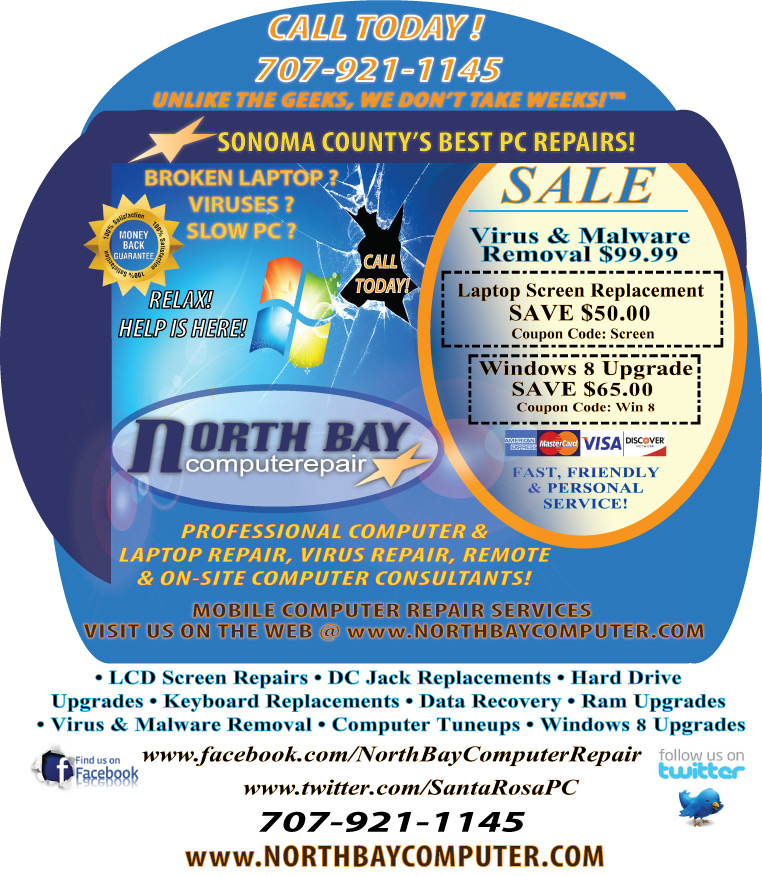 North Bay Computer Repair is here to help you!
Call Today! 707-921-1145

Money Back Guarantee!
Free Computer Repair Estimates!
Free Computer Pickup & Delivery in Santa Rosa!
(click to enlarge ad.)
Computer Repair, Laptop Repair & Business Support in Santa Rosa, CA.
We are a mobile computer repair company who prides itself on providing our valued customers world class customer service & support.
Located in Santa Rosa, CA, we specialize in Laptop Repair, PC Repair, Virus Repair,
Malware & Spyware Removal, On-Site Computer Support, & Remote PC Services.
Call Today!
707-921-1145
1-888-386-1085
Our goal in starting North Bay Computer was to provide customers and businesses with
a sensible solution to the many frustrations that can accompany owning a PC.

We know how frustrating computer problems can be and we know the
importance of your personal data and protecting it.
Our computer experts will not only treat you like the valued customer you are but
will show you what superb customer care and service are all about!
---



Attention New Clients:

Mention Coupon Code: SAVE


when you schedule your appointment
and save 10% off your first computer repair or laptop repair service!! *Some restrictions apply. Excludes sale prices.


Coupon Code: SAVE

Don't be fooled by
big box service centers!
They usually charge substantially more money
& take longer to repair your computer;
As if that isn't enough, they don't have the training
or customer service you deserve & can expect when
you come to North Bay Computer Repair.


CALL TODAY!


707-921-1145


-------------------------------


Don't Miss This Article...
Geek Squad Charges $415 Dollars
To Replace A Hard Drive;
Makes Customer Retrieve Data Files Himself

---
We Repair All Laptop Computers & Desktop Computer Brands Including:




Why Choose
North Bay Computer Repair?

Full Money Back Guarantee!
Free Estimates
Reliable, Trustworthy Service
Professional Expert Technicians
We Make it Simple
We Are Local! Serving Sonoma & Marin Counties
On Site PC Support For Your Home or Business
Free Pickup & Delivery
W

e Service All Your Gadgets, Laptops Too!

Fast Repairs & Superb Service
We Work For You
Security & Safety
Peace of Mind

Join Our Mailing List!


Get valuable computer repair coupons &
critical computer security news.
We Accept All Major Credit Cards & PayPal


North Bay Computer Repair
CA License #: 87452
Santa Rosa, CA
707-921-1145
1-888-386-1085
Tech@NorthbayComputer.com

Home Services & Rates About Us News Remote Service Contact Us Downloads FAQ
Laptop Repair Business Support In-Home Support All Services Check Repair Status Reviews
---
Get Your Laptop Computer Repaired Today!
---
Laptop Screen Replacements
Completed in 1-2 days!
---
Next Day Virus Removal
$199.99
---
Free Computer Diagnostic!*
Let our expert computer technicians find the problem for Free!
*Some Restrictions Apply.
Call Today!
707-921-1145
Find us on Google+
Client Feedback

"All I can say is Thank you so much for your help... My laptop runs like a champ and you definitely saved me lots of money...I will highly refer you to everyone..."
- Bill
Santa Rosa

"They came to my door, picked up my laptop & kept in touch with me about the problems I was having...They fixed everything among other things that really helped the performance of my computer...I was very impressed with North Bay Computer"
- Mike
Rohnert Park

"Thank you for all your advice and speedy help! My PC has never run better!"
- Chris
Santa Rosa

"WOW! Really great, friendly computer technician! Solved every issue I had & took the time to teach me how to prevent future problems! A+ Service! Will Highly
Recommend You!"
- Julie
Santa Rosa

"I have never needed a computer technician before calling North Bay Computer Repair. My experience was GREAT! They removed my viruses and kept me informed every step of the way! My computer has never worked better!
Thank you!"
- Tim
Santa Rosa